A healthy lifestyle change can be hard for the whole family. Especially when it involves giving up some of the family's favorite recipes. In many cases, there are not many substitutes for foods we love however, creativity in the kitchen comes with trial and error. The family can try something new and it either becomes a new family favorite or you try again. Here is one that we tried and it is a new family favorite and better yet it is still a healthy option.
I had recently met with a friend to discuss some changes I wanted to make myself with my eating habits. However, I struggled to let go of some of my favorite soups, one being albondigas. As we chatted I learned that she substitutes potatoes in her meals with cauliflower chunks. I immediately thought of albondigas when she shared her secret. When I went home I shared the special substitute ingredient with my family, their immediate response was, eww! However, knowing that my change in lifestyle of eating was important to me they were willing to at least try it!
Time to Prep!
Before you begin any meatball rolling and chopping, get the grocery list together! You do not want to miss out on anything. Here is a suggested grocery list. https://docs.google.com/document/d/1M62jW6ML89Alhi-f3idWCMA1ZflUasLYVpMwW-Qb6jE/edit?usp=sharing. Feel free to adjust some of the flavor options, but I will tell you that these combined ingredients are very tasteful.
Making the chili sauce for your albondigas
In a large pot you will start boiling 6 cups of water depending on the size of your pot at medium heat. You will add 1 tbs of beef bouillon and 1 tbs of tomato bouillon. You will want to prepare the sauce you will use for your healthy albondigas while the water boils.
You will do this by cooking your vegetables in a pan on medium heat. You can use olive oil spray and then add 1/2 of chopped white onion, 2 red peppers, 1 jalapeno pepper, 2 tomatoes and garlic cloves until soft. Then you will boil cooked vegetables in a small pot for about 10 minutes with a tsp of garlic powder, tsp of onion powder, tsp of pepper, and a tsp of salt. Once the water is boiled, move all the vegetables in the water to the blender. You will use 1/2 of the boiled water in your blender to make your sauce. Once blended leave it to the side until you add the meatballs to the pot of boiling water.
| | |
| --- | --- |
| | Next, you will start chopping all your vegetables. To chop the cauliflower simply trim the stems and they will just fall off. I recommend only using half a cauliflower floret. Thro the cauliflower into the boiling water. You will then cut the zucchini squash into cubes and out them in the boiling water as well. You will use 1/2 of the white onion and 1/2 of the jalapeno for this part. The other half you will use for your meatballs. Chop into small squares and set aside have of your chopping for the next step. Slice the poblano pepper and remove the seeds from inside. Before throwing the onions, jalapeno, and poblano pepper into the boiling water you will cook it just like you did the other vegetables for the sauce. While the jalapenos are cooking chop a cup of cilantro. You will use half of the chopped cilantro in your meatballs. Once the vegetables are tender remove them from the pan and put them in the boiling water along with 1/2 cup of cilantro. |
Time to roll the meatballs
On this step you will need 1/2 of the chopped onion, jalapeno pepper and cilantro. In a medium sized bowl you will mix your ground turkey with the chopped onion, jalapeno pepper and cilantro. You can also add a tsp of pepper, tsp of salt, tsp of garlic powder, and a tsp of onion powder into the mixture. Mix it all very well and then start rolling your meatballs. I used a food scale to measure each meatball at 1 oz but this is not a necessary step. Once rolled, with a spoon carefully drop your meatballs into the boiling water and then add the sauce you made earlier. Let the meatballs cook for 10 minutes and then time to serve! (Make sure to check on the meatballs first if you did not measure them).
Ready to eat!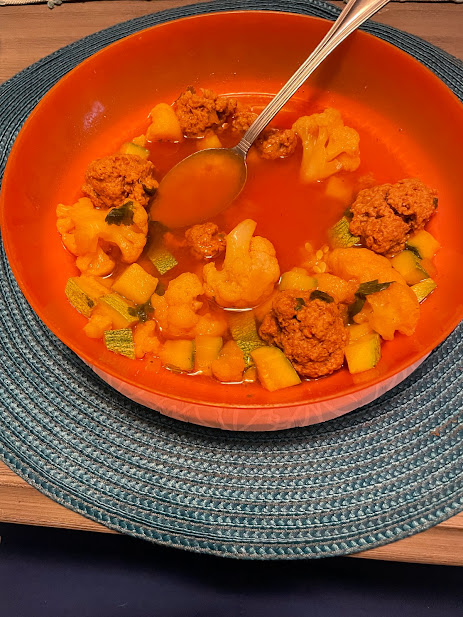 After checking the meatballs one last time, you are ready to serve. You can add more cilantro if you'd like as an extra garnish! I hope you and your family enjoy these healthy turkey albondigas.
They are perfect for a crock pot as well. You would follow all the same steps except adjust the setting to low heat as you do not want mushy zucchini and mushy cauliflower.
Another suggestion is to heat up some corn tortillas for your family to roll and dunk into their soup. If you are not a fan of corn tortillas you can also heat up a flower tortilla with some butter spread on it!
Enjoy!