Camp J
 is gearing up for the best year ever! Join new Camp Director, Josh Shenker and his trained and experienced staff for a summer to remember filled with discovery, growth, learning, and adventure!
Camp J provides a safe, fun and caring environment for youth in grades K-8. From 9am to 4pm, campers enjoy a wide variety of programming that helps them enhance their abilities in sports, express creativity, develop artistic skills and build and strengthen social skills. Camp J includes fun for everyone: swimming, archery, games, arts and crafts, cooking, gardening, community service, and culture and mitzvah projects (good deeds). Kids work together, make new friends and learn from each other as they enjoy daily activities and adventures.
This year, Camp J has more Specialty Camps than ever before, including Tennis; Robotics; Motorized Lego Building; Battlebots; Jedi Engineering; Math; Drawing Studio; Pottery; Comic Book Creations; and more! There's something for every personality!

Camp J is the only day camp in Tucson accredited by the prestigious ACA (American Camping Association), which ensures delivery of the highest standards in the industry. All staff members are trained, educated, and have camping experience and/or experience in child development. Camp J offers the safest and most stimulating camp experience available. Campers try new things with confidence and success, which can lead to significant improvement in social, emotional and physical development. 

The J now offers transportation to camp from sites across Tucson, including easy low-cost transportation from Northwest Tucson, and morning pick-up and afternoon drop-off services.

Whether your child joins us for one week, a few weeks or the entire summer, they will remember the adventure forever. Sign up today for early-bird discounts!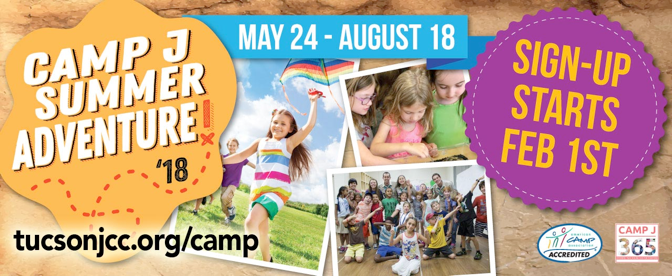 Questions? Contact Josh Shenker at 520-299-3000 x 192, email camp@tucsonjcc.org or visit
tucsonJcc.org/camp
.
Let the ADVENTURE Begin!