WHERE are those monsoons?
This is the longest stretch of unrelenting heat that I can remember...and I am BURNT OUT (pun intended). In need of new ideas to stay cool, I went to my two favorite resources: the East Tucson Macaroni Kid archives, and YOU! I've compiled some of the COOLEST responses to our Beat the Heat survey, and a few links to some cool fun from Macaroni Kid's past. We're all in this together, like it or not! Here's to riding this heat wave right through to fall.
Beat the Heat at HOME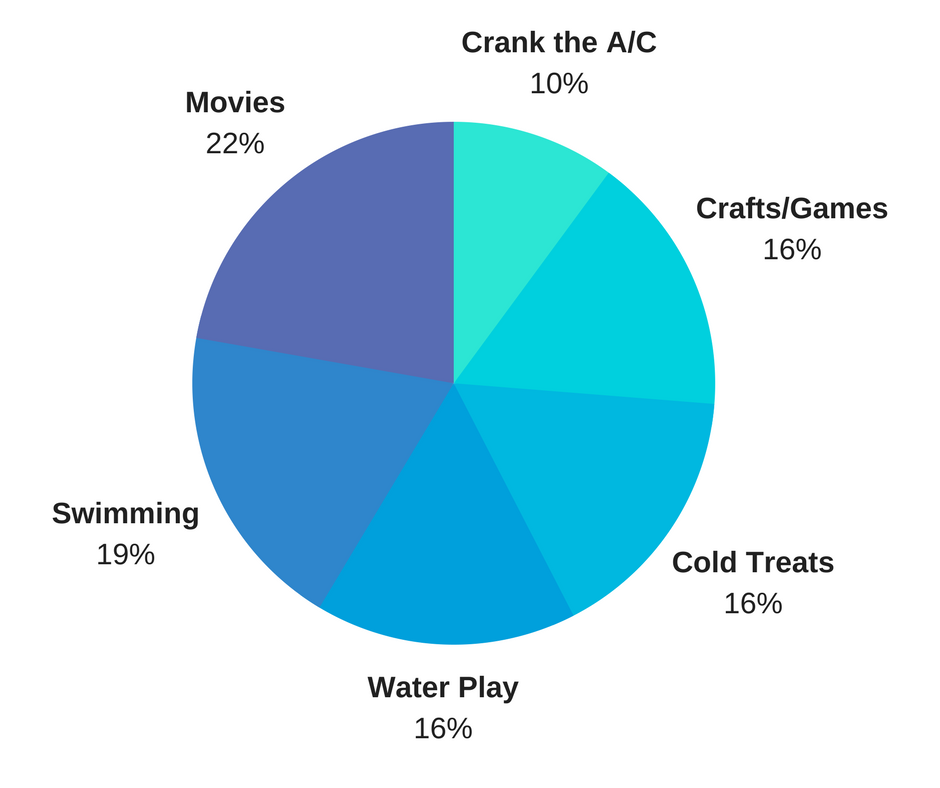 It's pretty simple: The families who responded to our survey say that to stay cool they either get wet, or they stay inside with the A/C cranked watching movies, doing crafts, or playing games. And a cold treat sure doesn't hurt!
The lucky folks that have a pool at home take full advantage of it, but those who don't get creative with water play. Hoses and sprinklers, kiddie pools and water tables, water balloons and water guns, you name it, people have tried it! A couple of people with trampolines combined water with jumping, like putting a sprinkler right under the trampoline, or playing with water balloons on the trampoline...in the morning or evening, of course!
Here are a couple of easy sprinklers you can make yourself to add some variety to your water play:
Pool Noodle Sprinkler and DIY Sprinkler
Other favorite stay-at-home activities ran the gamut from board games, to building forts, to watching lots and lots of family movies (mentioned by 22% of respondents). Sensory play and science activities with ice add another beat-the-heat element to stay at home play, like an Ice Block Treasure Hunt, Ice and Salt Science experiment, or these icy activities with a Frozen theme. And when you can't fully beat the heat, you may be able to USE it for crafts! Make your own crayons using old crayons and the sun, or "paint" on hot rocks (be careful with this one)!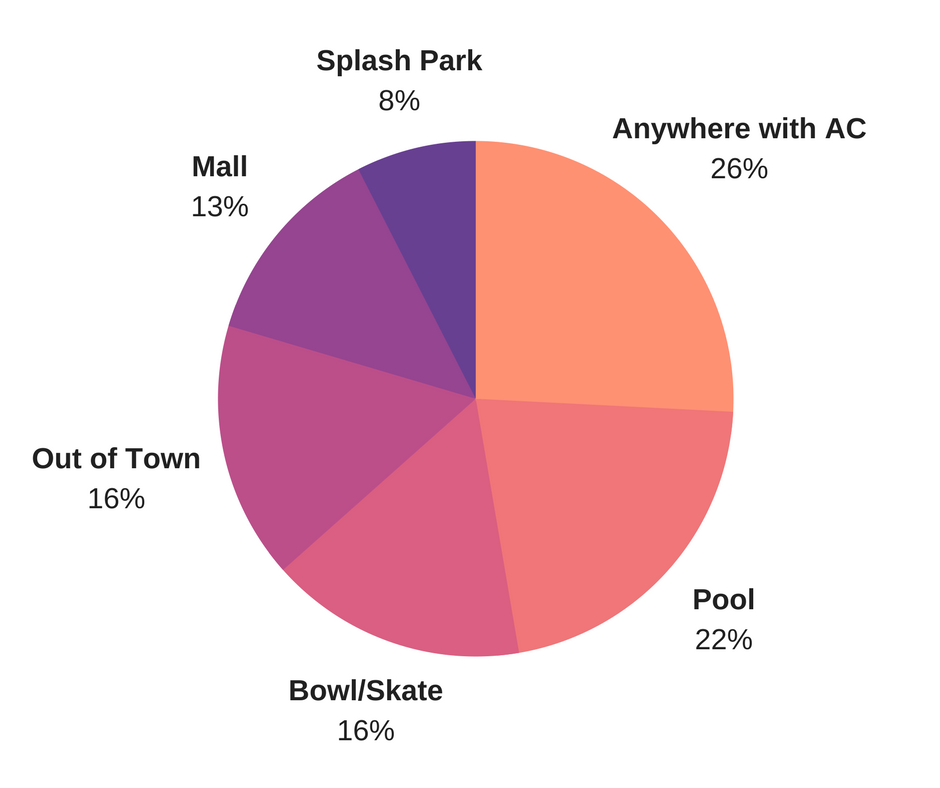 Beat the Heat On the Go
Sometimes the only way to find relief is to get out of the house and into someone ELSE'S air conditioning or someone else's pool! The top choice for a cool destination? ANYWHERE with A/C! Malls (especially the indoor play areas), bowling, and roller skating were mentioned often enough to be ranked, but movie theaters, libraries, Tucson Children's Museum, other indoor playgrounds (including the JCC and McDonald's), and hotels are also cool local destinations.
Second only to icy commercial air conditioning were pools and splash pads. Tucson Parks and Rec Pools are FREE for children this summer, and most local splash pads are free (or cheap), so these are inexpensive ways to beat the heat!
Where else do people go to take a break from the Tucson weather? They GET OUT OF TOWN! Mt. Lemmon (take a moment to send positive thoughts for the safety of the firefighters and the preservation of our beautiful mountain retreat) and San Diego were mentioned most often, but other California locations, Colorado. the White Mountains were also among destinations Tucsonans head during the summer.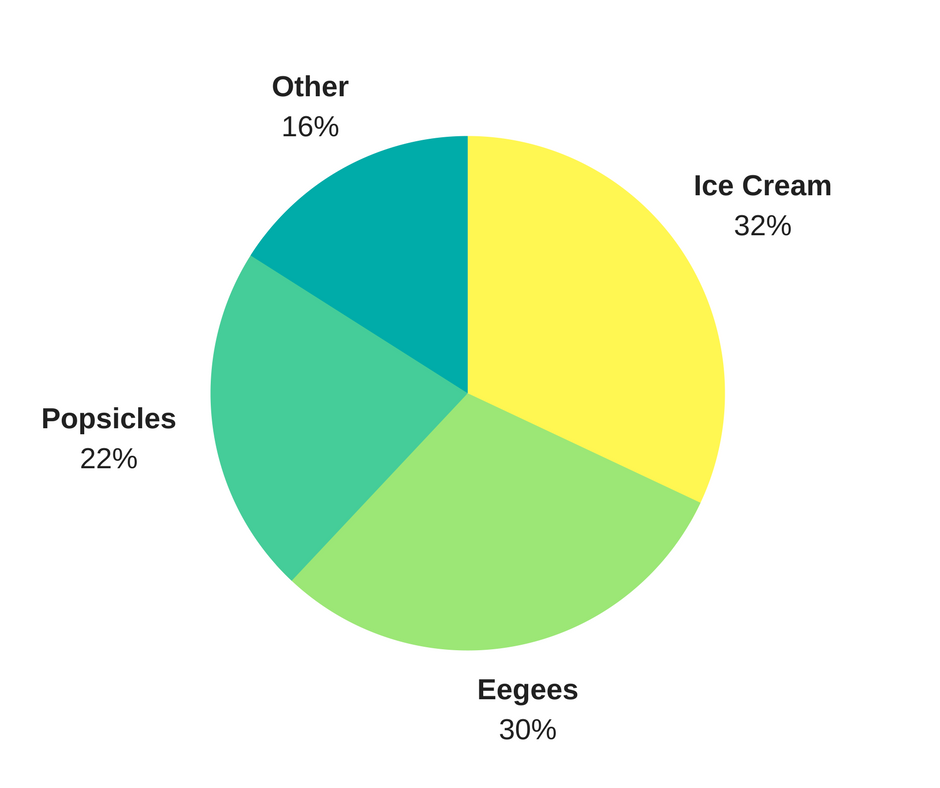 Treats to Beat the Heat
This one was a no-brainer (or a brain freezer?)! Ice cream is the favorite cold treat in the Old Pueblo, edging out our very own Eegee's by just 2% of responses. Popsicles are another kid-friendly favorite, especially homemade popsicles. Other cold treats mentioned included Slushees, Slurpees, shave Ice, smoothies, and snow cones (what is the deal with cold treats starting with the letter 'S'?).
Favorite Ice Cream comes in all varieties, from homemade, to DQ soft serve, to local scoops from The Screamery and The Hub. For those in the "make your own" camp, I rounded up some fun ice cream recipes you can try at home:
Homemade Ice Cream in a Baggie
Hot Chocolate Ice Cream
Ice Cream Sandwiches
Healthy Twist on the Ice Cream Sandwich
Ice Cream Cake
And a few other fun and cold recipes: Ice Box Cake, Frozen Yogurt Bites, Stoplight Popsicle
**Congratulations to Katrina R, the winner of an Eegee's gift card for responding to our survey!**
Other Creative Beat-the-Heat Tips from our readers:
-Get evaporative cooling towels (like Frog towels) for the whole family.
-Bring frozen water bottles with you when you leave the house.
-Make a slip n slide out of garbage bags!
-Take cool bubble baths in the middle of the day.
-Use the freezable ice packs for back pain to cool down car seats.
-Keep car seats covered with towels.
-Wet down a hammock and put a fan on it.
-Wash the dogs, or the cars, and play in the water while you wash.
-Do things at night (ride bikes, take walks, go to nighttime events like outdoor movies or Cool Summer Nights at the Desert Museum)
Finally, a few words to the wise (which we all are, of course, but reminders never hurt). With all this heat comes the need to be aware of heat-related dangers and creative about keeping our children (and ourselves) hydrated. And with all this water play comes the need for water safety reminders. Take a few moments to review these tips before you head into the pool or out in the heat.

Be safe, have fun, and GET COOL!


Recipe for a Healthy Alternative to Sports Drinks
Water Safety: A is for Adult Supervision
Water Safety: B Is For Barrier
**Like this article? Want to be notified of future giveaways AND get a weekly dose of family fun? Subscribe to our FREE weekly e-newsletter! Be sure to visit our event page for even more daily happenings, and like us on facebook for updates, giveaways and more.**