Like many kids, my now 7-year-old has a huge imagination, but she loves to use that imagination on little things. Never much of a baby doll kid, she can play for hours with tiny toys of all kinds. She's also very artistic, and takes great care to include detail in her artwork. So, for her last birthday, she knew had no doubt about where she wanted to celebrate. The Mini Time Machine Museum of Miniatures had been the site of her favorite summer camp for two years running, and she just KNEW it would make for a magical birthday location. I had to agree, the  Mini Time Machine Museum is one of my favorite places in Tucson for little kids with big imaginations!
Mini Time Museum birthday parties offer a craft that can be customized to the child's birthday theme, so my October-born daughter had fun trying to come up with JUST the perfect theme. The obvious choice might have been something about fairies, as Fairy Caitlin is the Museum's magical mascot. However, my daughter had already had a fairy party and she didn't want to be redundant. Her birthday falls near Halloween, so she wanted something thematic, but not too spooky, cute, but not cutesy, unique, but not too hard for Mama (me!) to make into a cake. After a lot of back and forth, she finally (finally) settled on owls!
When we told our wonderful party planner, Emily, about the theme, she said she thought that was the first time it had ever been requested at the Mini Time Machine Museum. But that didn't stop Emily from coming up with this adorable owl craft: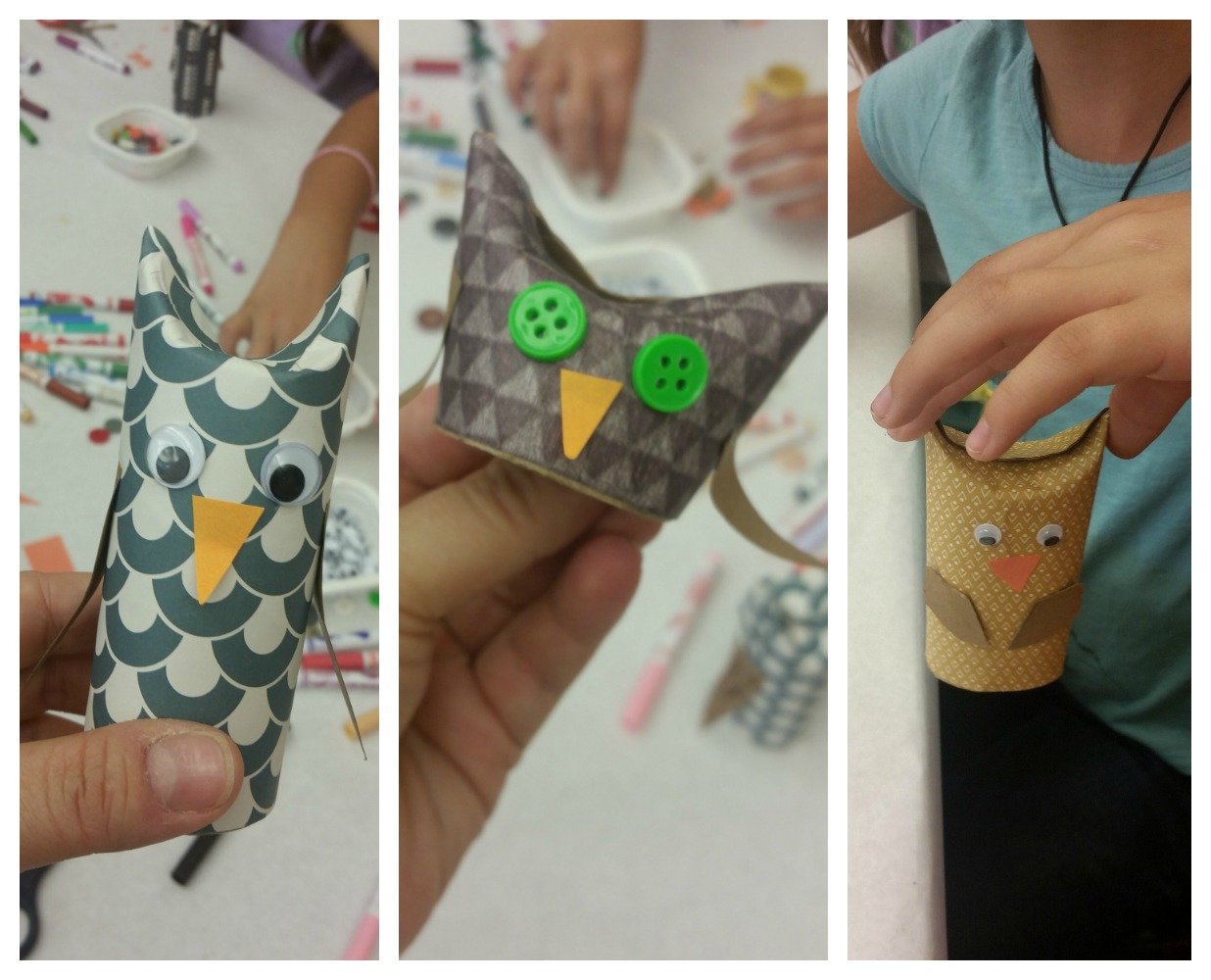 In addition to the craft, Mini Time Machine Museum birthday parties include set-up, clean up, and decorations in a private party room in the Museum. Party guests (including adults) get Museum admission (for up to 20 adults and 16 children), a scavenger hunt through the museum, and treat bags for all of the children.
On the day of the party, we arrived with our cake and some other owl-themed treats, and let Emily expertly handle the rest. The room was set up with cheerful green and gold decorations, and there was plenty of room for crafting the adorable owls. The children loved the craft, and had a wonderful time touring the Museum and searching the Enchanted Realm for dragons and mice and other surprises during the Scavenger Hunt. I noticed that nearly all of the parents hung around and toured the Museum, too, many for the first time. Families are invited to stay and explore the museum after the formal party time, and many of our guests chose to do that. They all agreed the Mini Time Machine Museum is a very special place.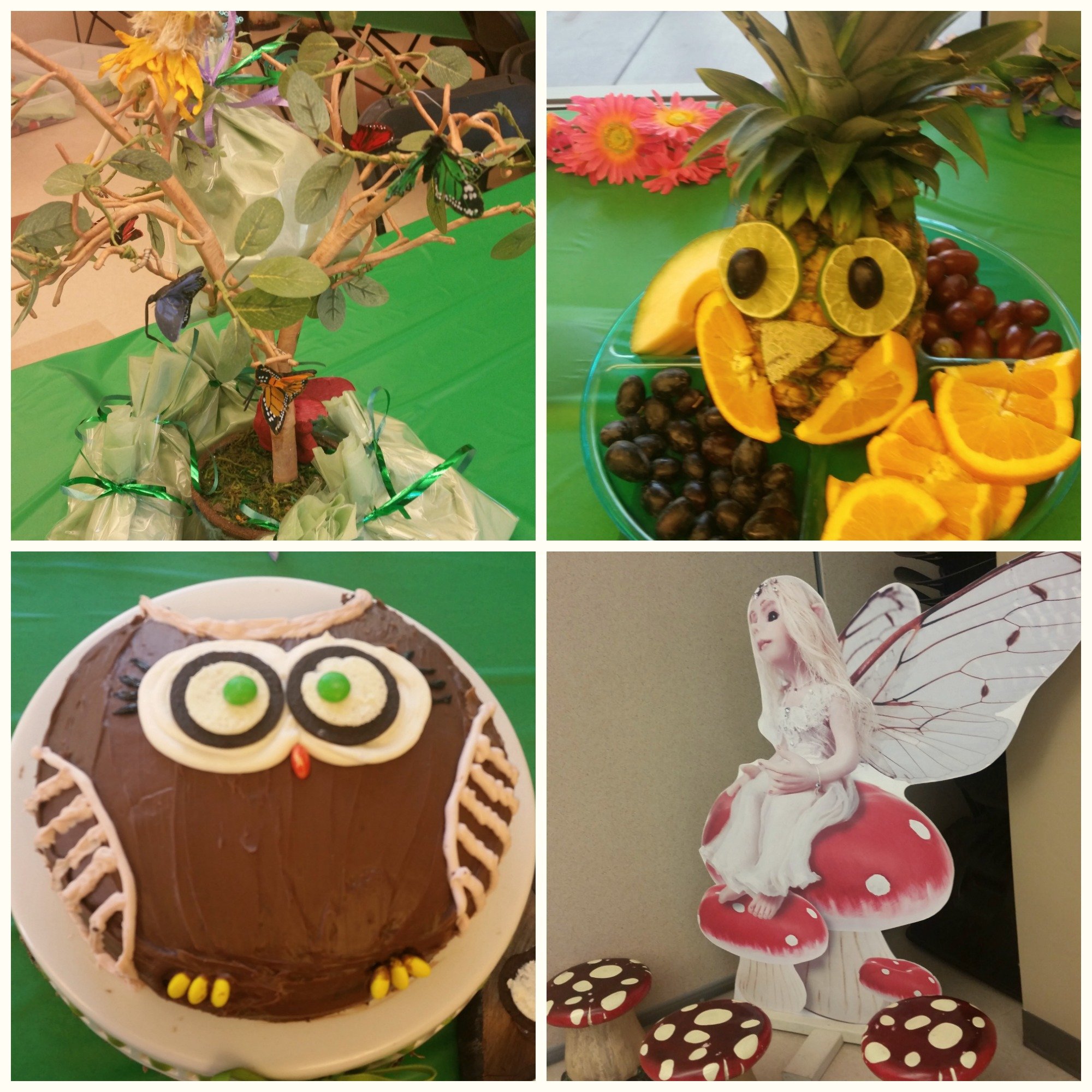 My crafty little girl with the big imagination had a wonderful time at her owl-themed Mini Time Machine Museum birthday party. In fact,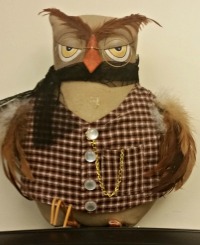 even though owls hadn't been a party theme before, my daughter noticed this fellow watching over the party room:                                    
She decided her choice of themes and venues was meant to be. I agree...no matter what creative concept your little one comes up with, The Mini Time Machine Museum of Miniatures is a "WISE" choice for your child's next party!
 Click HERE to learn more about birthday parties and other events at the Mini Time Machine Museum of Miniatures.
The Mini Time Machine Museum of Miniatures

www.theminitimemachine.org
4455 E. Camp Lowell Drive
Tucson, AZ 85712
We were invited to experience a Mini Time Machine Museum birthday party in exchange for this honest review. All opinions are my own (and my daughter's).