Introducing the NEW East Tucson Macaroni Kid Birthday Club!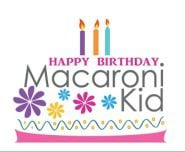 ​
Here's how it works: Simply register your child by birth month, and each month we'll randomly select (using Random.org) one birthday boy or girl to receive a fun prize  courtesy of our very generous local sponsors. Prizes will begin with March 2017 birthday kiddos, so be sure to get your child registered now! It's quick and easy, just click HERE!​
Each registered child will also receive a birthday shoutout in our newsletter and on our Facebook page, and one lucky winner will enjoy a prize from Golf n Stuff, Usborne Books (Melissa Miller), and Frozen Delight...and there are more sponsors to come!

Each child must have a parent register on their behalf and each registrant parent must subscribe to the East Tucson Macaroni Kid FREE e-newsletter!
Register your child(ren) today! Click HERE to sign up!

Thank you to our sponsors!


​

  Read More Usborne with Melissa Miller




www.facebook.com/FrozenDelight520/


If your business would like to sponsor our birthday club, please contact kindler@macaronikid.com for details!